The Most Popular Girl Scout Cookies in the U.S.
April 27, 2023
Are you ready to indulge in some serious cookie talk? It's
Girl Scout Cookie time again
, and whether you're a die-hard Thin Mints fan or can't resist the chewy goodness of a Samoa, there's no denying the allure of these tasty seasonal treats! But have you ever wondered which Girl Scout Cookie flavors are the most popular across the United States? Not to worry, we're diving deep into America's Girl Scout cookie obsession to bring you the goods! Do the classic flavors still dominate the market, or have new kids on the block taken over? Raspberry Rallies, we're looking at you. We carefully analyzed Google search data to find out how the cookie crumbles in each U.S. state, so grab a glass of Milk (or your favorite milk substitute) and get ready and get ready to satisfy your sweet tooth. Read on to explore our mouth-watering journey to discover the most beloved Girl Scout Cookies in America!
The Most Popular Girl Scout Cookie in Every U.S. State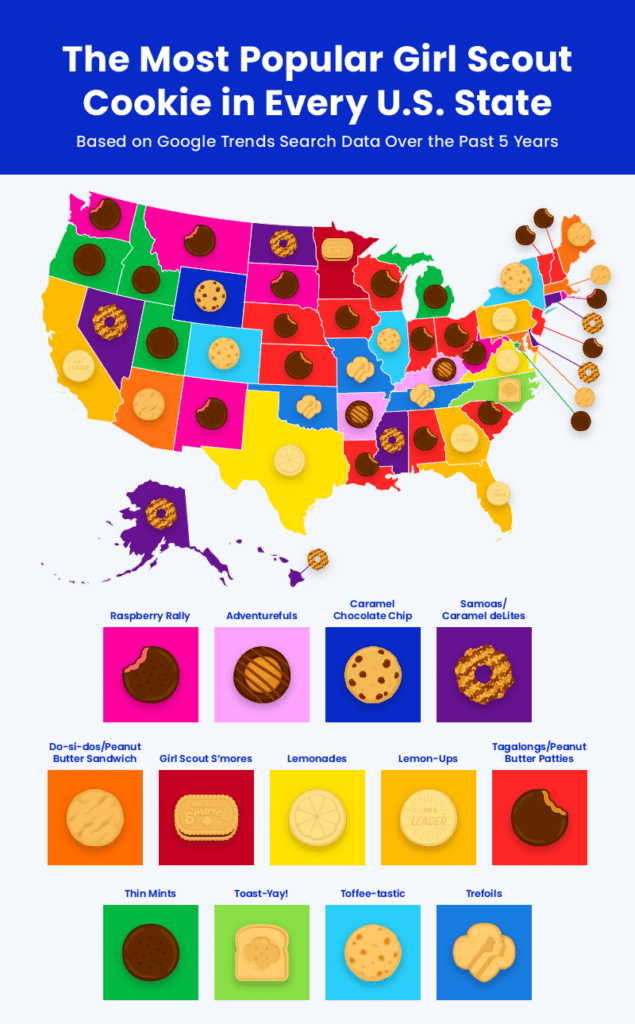 From coast to coast, one thing unites us all – our love for Girl Scout cookies! Wondering why some states on our map show two different cookie names? That's because there are actually TWO versions of six of the most iconic Girl Scout Cookie flavors! The company uses two different bakers (ABC Bakers and Little Brownie Bakers), and while some flavors are identical in taste and name between both of them, a few are entirely different. The interesting part? The region you call home in your state determines which one you've likely tried! Well documented in our study is Middle America's love of Tagalongs, with six Midwestern states claiming the iconic cookie as their favorite. The West Coast loves their Samoas and Thin Mints, with three states going all in for each classic flavor. Like the rest of the country, the Eastern states have varied preferences, but it's worth noting that Do-si-Dos are a favorite in Maine, Massachusetts, and Maryland.
The Most Popular Girl Scout Cookies Overall
When it comes to overall popularity, one thing is clear – Tagalongs take the cake (or cookie, we suppose)! Twelve states gave their top spot to the chocolate-peanut butter classic, followed by seven for Samoas and six for Raspberry Rallies. Speaking of Raspberry Rallies, here's to love at first bite! Shout out to the six states embracing the brand-new 2023 flavor! Our data demonstrate that this delicious new addition to the Girl Scout Cookie family is already making its way into Americans' hearts and cookie jars nationwide.
Closing Thoughts
It's undeniable – Girl Scout Cookies are an American tradition and never fail to bring joy during the cold winter months and early spring! After all, who doesn't love stocking up on their favorite flavors and helping out a great cause while they're at it? Girl Scout Cookie sales have been a tradition for more than a century and are something people of all ages look forward to each year. If you've ever sold them, you know they practically sell themselves! Speaking of easy-to-sell… at
Sell Easy
, we make selling your life insurance policy for cash almost as easy as selling a box of Tagalongs. If you have an unused life insurance policy you want to sell for cash,
find out if you qualify
today!
Methodology
To determine the most popular girl scout cookies in every state, we turned where everyone does when they need to know something. Google. We analyzed Google search interest for every Girl Scout Cookie flavor (13 in total) over the past 5 years, which told us, proportionally, which states are most interested in the varying flavors.
Ever since Dr. Seuss introduced us to the Grinch — a green, Christmas-loathing character "wh...
From The Who to The Stones, some iconic groups have been entertaining Americans well past their init...
When it comes to getting rid of your life insurance, most policyowners think their only options are ...